A.R. & MUSIC
@kaipa71 팔로우하기
A B C D E F G H I J K L M N O P Q R S T U V W X Y Z eTc
글 수 1,905
추천 수 : 0 / 0
조회 수 : 4713
2009.01.22 (17:45:17)
Ratings:
ARTIST:
The Attack
ALBUM TITLE:
Magic in the Air
YEAR:
1990
COUNTRY:
U.K
GENRE:
Psychedelic Rock
LABEL:
Aftermath
TRACKS:
1. Magic In The Air
2. Colour Of My Mind
3. Mr. Pinnodomy's Dilema
4. Hi Ho Silver Lining
5. Try It
6. Freedom For You
7. Any More Than I Do
8. Strange House
9. Neville Thiumbcatch
10. Feel Like Flying
11. Lady Orange Peel
12. We Don't Know
13. Too Old
14. Go Your Own Way
MUSICIANS:
Davey O'List (guitar)
Brian Davison (drum)
Richard Sheman (vocal)
Gerry Henderson(bass)
Bob Tayloer (vocal)
Alan Whitehead (drum)
원본출처: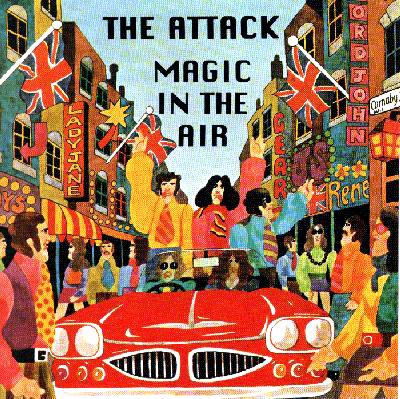 1967년부터 1968년초가지 Decca레코드를 통해서 Psychedelic지향의 싱글을 발표했던 그룹이다. 멤버들중 Davey O'List와 Brian Davison은 Keith Emerson과 The Nice를 결성했고, 그리고 그 외 멤버들은 Adromeda, Five Day Week Straw People에 가입한다.